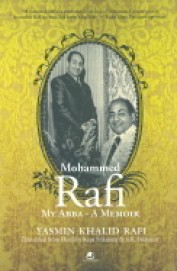 My Abba has been written by one of Mohammed Rafi's daughter-in-law Yasmin Khalid Rafi [It has been translated from Hindi by Rupa Srikumar & A.K.Srikumar]
The book's blurb reads, "Famed music director Naushad Ali described Mohammed Rafi as India's new 'Tansen'. In a singing career spanning 35 years, Rafi came to be regarded by many as the greatest playback singer the Hindi film industry has ever known. Apart from Naushad, Rafi worked with all the well-known music directors of his time, including S D Burman, Shankar-Jaikishen, Laxmikant-Pyarelal and O P Nayyar. He became the 'voice' of most of the leading stars of the day including Dilip Kumar, Shammi Kapoor, Dharmendra, Dev Anand and Amitabh Bachchan. He also playbacked for superstar Rajesh Khanna ['Gun guna rahen hain bhanware khil rahi hai kali kali' and 'Baagon mein bahaar hai, kaliyon pe nikhaar hai' in the film Aradhana]. It was songs like these and countless others like 'O Duniya ke Rahwaley' [Baiju Bawra], 'Yeh Zindagi ke Meley' [Mela], 'Naseeb Dar pe Tere Azmaney Aaya Hoon' [Deedar] and 'Shabaab pe mein zara si sharab phekoonga' [Amar Akbar Anthony], that have made Mohammed Rafi live on in the hearts of millions long after he passed away in 1980.
Yasmin Rafi grew up as a devoted fan of Mohammed Rafi, little knowing that she would one day meet and marry his son, Khalid. This transition from 'fan to family' as she puts it, led to this heartwarming memoir of an artiste who was an icon for the world, but for his family, a simple, caring and loving man who delighted as much in good food, flying kites with his children, and driving his parrot-green Fiat through the streets of Mumbai, as he did in the numerous awards that came his way, including six Filmfare awards and the Padma Shri in 1967."
Among the several memoirs to Rafi, this one is quite delightful coming as it does from a close family member. Yasmin was not just Rafi's daughter-in-law; she was his ardent fan much before that. And, thus the book captures lots of tidbits about the famous singer including his large heartedness and his willingness to enjoy the pleasures life had to offer.
The book takes us through Rafi's journey from his birthplace in Amritsar, Punjab to the Hindi film industry and how he came to be one of the most revered and respected playback singers. While Kishore Kumar was known to sing light & cheerful songs, Rafi usually sang melancholic numbers with amazing intensity. That is not to say, he didn't sing happy songs; in fact, 'Yeh ladkaa hai Allah kaisa hai deewana' from Hum Kissi Se Kam Nahin was a duet he sang with Asha Bhosle.
His friendship with music director O P Nayyar has been discussed in great detail in the book. Rafi sang some of his most memorable songs under O P Nayyar's baton including movies such as CID, Tumsa Nahin Dekha and Taxi Driver.
The book also has some never before seen pictures of Rafi with friends and family including one with all his grand-children and one with Mohammed Ali. Since the book is written by his daughter-in-law, it is written in a matter-of-fact and almost conversational style.
I enjoyed reading about one of Bollywood's most loved but sometimes under-rated playback singer. Among my favourite Rafi songs are 'Kya Hua Tera Wada' from Hum Kissi Se Kam Nahin for which he won both the Filmfare & National Award in 1977 and 'Dard-e-dil Dard-e-jigar' from Karz.
Read the book to know more about Rafi - the man behind the singer - who unfortunately died quite young when he passed away of a heart attack in 1980.